Things to Do in Granbury TX
Posted by Randall Luna on Saturday, April 14, 2018 at 7:11 PM
By Randall Luna / April 14, 2018
Comment
10 Ideas to Get You Out of the House and Enjoying Granbury, TX
If you are like the rest of us, you are tired of the chilly temperatures and ready to head outside for some fresh air and entertainment. There are dozens of local events each week near homes for sale in Granbury TX. We think that you will find several opportunities on our list to get out and have some fun.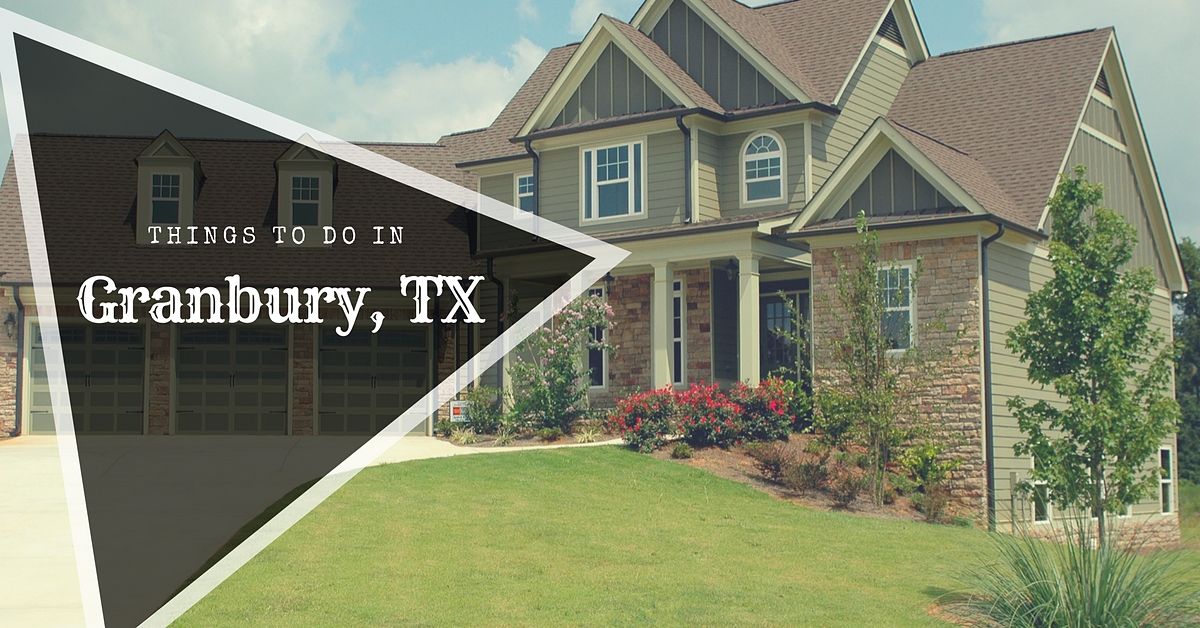 The Spring Art Show
Exhibit dates: All Sundays in April from 1:00 p.m. to 4:00 p.m.
Lake Granbury Art Association
224 North Travis Street
Granbury, TX 76048
817-579-7656
Admission is free. The exhibits are all by local artists. Each item is up for purchase.
Bluegrass Jamboree Festival
April 5, 6, and 7, 2018
Oakdale Park
1019 Northeast Barnard Street
Glen Rose, TX
254-897-3081
Admission on April 5, 2018, is $15 per person. On April 6 and 7, 2018 the price goes to $25 each. A three-day pass is available for $55. Children under the age of 16 get in free. Several bands are playing including Catahoula Drive, Mark Phillips & IIIRD Generation, and the Jeff Robertson Band.
Bridal Show
April 8, 2018
11:00 a.m. to 3:00 p.m.
The Pavilion at Plaza East
121 Cleveland Road
Granbury, TX 76048
817-559-5533
Admission to this event is free. Parking is also free of charge. The party will include complimentary mimosas, live entertainment, and a candy station. There is also a drawing for a free venue rental at the Pavilion at Plaza East.
D'Vine Wine Music Massage & Merlot
April 13, 2018 from 7:00 p.m. to 11:00 p.m.
107 East Bridge Street
Granbury, TX 76048
817-573-7200
More than 20 wines will be on showcase and for sampling. There is a one dollar a minute massage area. You can also join in the karaoke fun. One unique idea is that you can make a personal bottle of wine with a fun label and taste. This event recurs every second and last Friday each month.
Farmer's Market Opening Day 2018
April 14, 2018
8:00 a.m. to 12:00 p.m.
Acton Local Market
4208 Falls Creek Highway
Granbury, TX
The market is going to be open in the same location as last year on the second and fourth Saturday of the month. Admission is free. Joining the group page on Facebook is an excellent way to keep track of the market offerings and sales.
Bluff Dale Junk & Antique Market 2018
April 20 to 21, 2018
9:00 a.m. to 5:00 p.m.
Cow Smith
28510 North US 377
Bluff Dale, TX 76433
817-894-2036
Admission to this event is free. There is a food truck that will be attending the event. There are more than 20 vendors that will showcase trinkets, handcrafts, and antiques. There will also be a five-kilometer walk for the Bluff Dale School.
Discover Bluff Dale
April 21, 2018
9:00 a.m. to 6:00 p.m.
Granbury residents are invited to attend the spring get together in Bluff Dale. There will be food, drinks, and sales at several local shops. Visitors will get a free ticket for the raffle for a two-night stay at the Buffalo Hills Guest House when stopping by a local business on April 21, 2018.
The Lion of Texas - An Evening with Sam Houston
April 22, 2018
2:00 p.m. to 4:00 p.m.
The New Granbury Live
110 North Crockett Street
Granbury, TX 76048
800-340-9703
The cost of admission is $27 per person. Seniors can pay the discount price of $25 to enter. Guests will hear dramatically hear about General Sam Houston.
VIP Sip & Savor Event
April 26, 2018
7:00 p.m. to 10:00 p.m.
Granbury Square
100 East State Loop 426
Granbury, TX 76048
info@granburywinewalk
This event is a chance for you to mingle with the founders and sample hors-d'oeuvres
from local chefs. They will pair specific wines with each appetizer. Live Jazz music will be playing at the event. Tickets are $125.00 including a ticket for the Granbury Wine Walk on either April 27 or April 28, 2018.
Granbury Wine Walk
April 27 from 2:00 p.m. to 8:00 p.m.
April 28, 2018 from 11:00 a.m. to 7:00 p.m.
Granbury Square
100 East State Loop 426
Granbury, TX 76048
info@granburywinewalk
Ticket prices are $27 if you purchase before April 15, 2018, then the price goes up to $35 per ticket. You will get a wristband and a map with your ticket as long as you are over 21 years old. You can taste up to 15 wines during this event. There will be live music, food, and art to browse during the event.
Top outdoor spots in Granbury
Families buying a home in Granbury TX will want to check out some of our favorite places to relax. Whether you want to get in a jog, have a picnic with someone special, or you just want some fresh air, we think you will find a spot you love.
Granbury City Beach
Lone Star Golf Course
Granbury Hike & Bike Trail
Sam's Dock
Jim Burks Firefighters Memorial Park
Harbor Lakes Golf Club
Hidden Oaks Golf Course
Other places of interest in Granbury
Granbury Opera House
City Park and Playground
Lake Granbury Marina
Hood County Jail and Historical Museum
Revolver Brewery
Barking Rocks Winery
Granbury Doll House Incorporated
Granbury Theatre Company
Shanley Park
Granbury Railroad Depot Museum
U.S. Veterans Museum
Wagon Yard Antique Store
Spring is full of fun events and places to visit. Feel free to contact us if you need more information about homes for sale in Granbury TX.