Maintenance Tips Before Winter Hits
Posted by Randall Luna on Wednesday, September 5, 2018 at 7:05 PM
By Randall Luna / September 5, 2018
Comment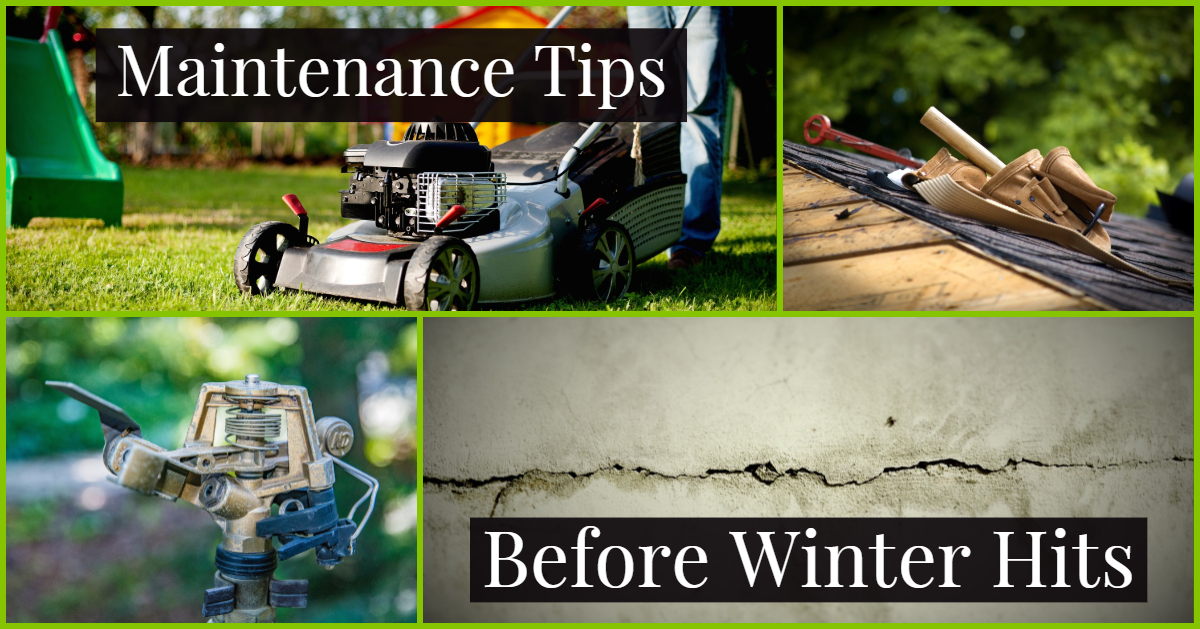 Before Winter: Home Maintenance Tips
When you own a home, you know that there is a certain amount of work that you will do during the year to keep the property in shape and safe. Whether you replace a frozen water pipe, fix a leaky roof, or replace broken siding, everything you do will help you keep the current value of your property.
Staying in your house or prepping your home to sell will not affect your maintenance schedule. We talk about six of the most critical home checks and repair tips you may want to add to your home maintenance to-do list
Check and repair your sprinkler system
This should be at the top of your list for maintenance before winter arrives. Walk the yard and check any visible part of the system making sure that the valve heads are upright, free of debris, and without damage.
Then, inspect your watering mechanisms by using the manual valves to turn on the sprinkler heads one by one. Brush out any sprinkler that has a clog. Check the timers and be sure that the water is reaching the areas you want it to get.
For issues like ponding or problems with even pressure, you may need to contact your sprinkler installer to check for underground damage.
Block out the heat to reduce energy costs
Since the summer months can get extremely expensive when you count in water charges to fill the pool, run the sprinklers, and cool the house, it is important to seal up everything you can. For example, windows and doors may need new weatherstripping, especially if you had a harsh winter or extremely wet spring.
Blackout curtains are incredible for keeping the sun from heating up your house. Dual-lined drapes with the white vinyl are other excellent options for holding out the heat and reflecting the sunlight.
Inspect and spray for pests
Before the first winter freeze, most insects are still out and about. If you have any issues with pests, they may already have your attention, but there are a host of pest problems that can't be properly identified without going on a thorough search.
Do you have a grasp on any potential bug issues such as hibernating insects or burrowing pests? Unless you are an expert at finding pests like termites, you might want to consider hiring a bug control expert to check your home to make sure there are no problems.
It is better to know early, before these tiny critters cause major damage to your home or property. With a regular pest prevention routine, your exterminator can help you ward off any problems with insects and invasive pests before they try to enter your home.
An ounce of prevention is worth every penny of the price when it comes to keeping mice, roaches, termites, and spiders out of your house.
Fix all roof and gutter issues to keep your house dry
Even when your families home is in top shape, a small leak can become disastrous for your foundation. When your gutter has a crack or a shingle is loose, water can get into the home.
Puddles against the foundation can cause slab leaks and trouble with mold and mildew. A tiny crack in the protective barrier under your shingles can let condensation reach the sheeting and beams that hold up your roof.
Moisture control is always a top maintenance concern when owning a home. Some signs of wetness issues include sticking doors, sagging walls or ceilings, visible staining, flaking or peeling paint, stair-step cracks in the basement, uneven cabinets, and visible mold.
When you see any of these signs, it is vital to find the source of the problem and remedy the situation quickly to prevent the issue from spreading and becoming a bigger problem. When moisture is left unchecked, it can quickly turn into a disaster that can be much more extensive and expensive to fix.
Weed, mow, trim, and remove excess plant debris
Curb appeal is more than a tool to sell family homes. Upgrading and keeping your yard free of weeds not only looks good, but it helps to prevent water from pooling in your yard, insects spawning in wet areas, and tree roots away from encroaching on your slab.
June Bugs lay their eggs in the lawn, and their larvae are voracious eaters of your grass roots. If you notice thinning grass, you may not only want to consider standard lawn fertilizer, but also a lawn pesticide to prevent an infestation from happening.
By covering or removing exposed tree roots, you can reduce trip hazards that you may not notice in the winter, particularly if you live in an area that gets snow. Remove any overgrowth and clear paths to and around your house.
Fix any issues with concrete, siding, and fences to maintain safety
Speaking of security, it's always a good idea to inspect your pathways and the boundaries of your property. If your fence needs securing, then summer or fall is the best time to take care of these repairs.
If your driveway is cracked, cold winter temperatures can cause shifting and trip hazards. By fixing these issues in the warmer months, you can avoid making repairs in the winter, and potentially deter a disaster.
Your siding can let ice get to the insulation and other layers of your house if it has cracks or holes. If you have pieces of leftover siding, you can use a pair of tin snips to trim a replacement slat to size. Work from the bottom up for the best results.
With regular care, you can minimize damage to your property and home contents. Maintenance is a crucial chore that you can outsource or save yourself the money and do the work, but it is a necessary part of home ownership and keeping equity in your property.