Looking Back 100 Years
Posted by Randall Luna on Monday, August 20, 2018 at 3:32 PM
By Randall Luna / August 20, 2018
Comment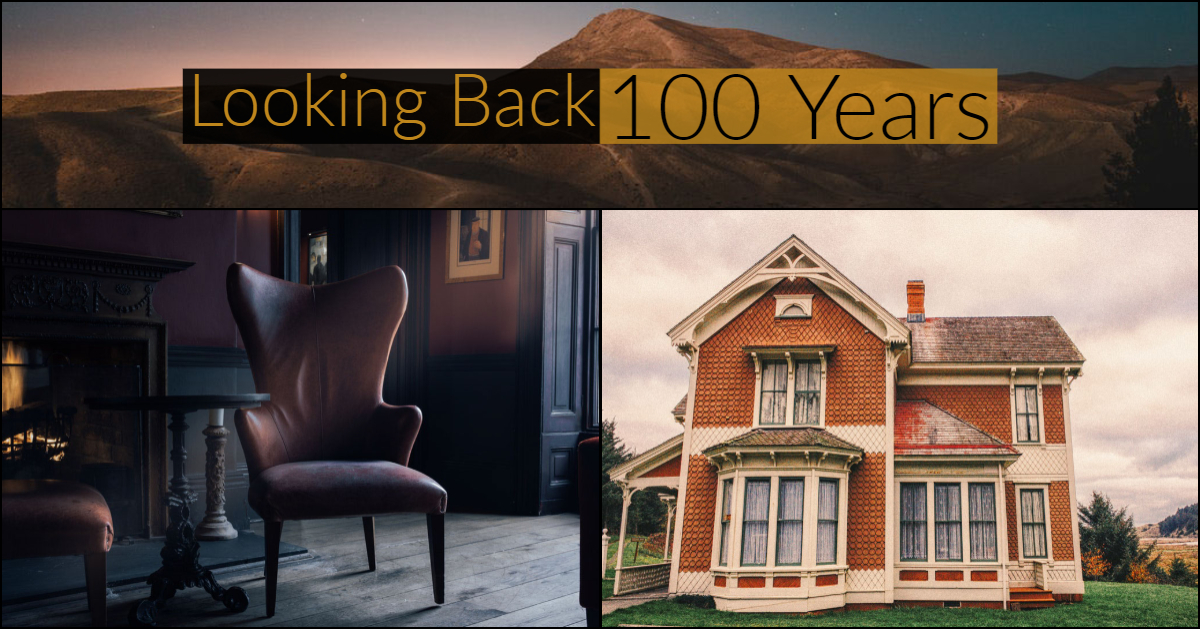 Architecture & Design Of Single Family Housing
Single family home ownership has been part of the American heritage for over 100 years. Prior to the early 1900s, it was not unusual to find multiple families living under one roof. But, as America began to flourish, the ability to buy a home, the need for comfort and individuality brought a host of new home designs for one family housing.
46.5% of Americans owned their own homes in 1900. This number had risen to 53% by 1950. Today, it is estimated that nearly 63% of all Americans are homeowners. This percent when continue to rise as new real estate technology allows for more modern, efficient, and affordable homes with new ways of purchasing them. Here is a snapshot of how the architecture and design of homes has evolved in the past 100 years.
1900-1920
By the beginning of the 20th century, Americans had started to create their own designs of single family housing, apart from the imported Greek, Roman and other historical styles with their rectangular shape, gabled roofs and columns. Craftsman style bungalows with large front porches, dormers and low pitched roofs that covered 1-1 1/2 stories.
Simple bungalows lacked the exterior exposed wood and were not as defined in detail, but became popular as low-cost quality housing. There were still plenty of Victorian homes going up, mostly in southern states. Areas like Savannah, Georgia and Birmingham, Alabama were still being built, but on a much smaller scale than before. Farmhouses in rural areas often borrowed architecture from the Victorian era, but were more subdued in design.
1920-1940
Colonial Revival designs started appearing in the 1920s with a mixture of styles. The roof forms no longer resembled the Victorian-style, but had different unique all-American designs. Gabled, hipped, and gambrel styles were featured and gave each home a distinct architectural design of its own. Spanish Colonials were also common to see in the 1930s with stucco exteriors and limited exterior ornaments.
The Cape Cod design became quite popular during World War II and offered an affordable and attractive alternative to starter families. Entire streets could be lined with this design that featured windows flanking the front door, dormer windows up top and cedar shingles. Tudor Revivals were also seen in various sizes. It is believed that many of the Revival designs formulated from the 1893 Chicago World's Fair exhibitions where different European styles were explored and interpreted in creative ways.
1940-1960
While Cape Cods and mini Tudors continued to be a hot item in housing, the era of Modern and Ranch Style structures became popular. The great depression was over and recipients of the GI bill from returning World War II made housing available for the taking to veterans. Simple single family homes were being placed on large tracts of ground in a circle.
This new concept came to be known as suburbia and featured ranch-style and two-story colonial types. First time home-buyers of the Baby Boomer area ate up this concept with housing that offered 3 bedrooms and 1 1/2-2 baths for a growing family. The one level design was modern and sleek and represented the fast-rising economic boom.
Architects that were recovering from the poor building times were working overtime in coming up with unique plans that could produce a new trend. A-Frames, Dome Homes and pre-fab modern homes were tried, most of which never took off. Frank Lloyd Wright designed the Usonian house based on his Prairie-style model. Low, one story and long, the idea was popular among couples looking for unique and ultra-modern. However, the flat roofs and high cost to build, left many looking at less expensive options.
1960-1980
Contemporary styles and split-level homes were part of the growing trend of open spaces and geometric designs during this pop-culture era. Ranches were still among the most popular, but there were new twists in features to highlight the exterior. Mixed brick and siding, more plate glass, and build-on carports added a little extra dimension to these homes. L-shaped ranch houses began popping up as well as mid-century modern models with little or no roof slant.
Log homes started making a comeback from the 17th century, only with full insulation and drywall for comfort. Townhouses with 2 stories were extremely popular in urban areas as we neared the 1980s. Retirees that had been in larger homes while raising families, found that the casual style with no yard work was very appealing. Young couples also found this option attractive, freeing up time for sports, concerts and having fun after work.
1980-2000
Grand-looking brick mini mansions with multiple roof peaks and distinctive columns made most trendy ranches look tired and boring. However, these homes were not cheap to build and they were mainly built by the wealthy.
Square footage depended on the amount needed and countless amenities, like indoor pools or a solarium made each one custom and expensive. A real estate agent that worked with customers in the $200,000 price range was usually contacted for these type of listings.
This time period was also representative of different types of new building materials that were used in making a plain modern or ranch home look more costly. Sometimes a mixture of 2 different styles would be used to create a different look.
2000 to present
Green building began to be on everyone's mind and extreme craftsmanship followed close behind. Many of the past designs have continued to be favorites among builders. All types of Colonial, ranch, farmhouse and bungalow are among the different designs that homeowners are seeking.
Cabin type and Adobe are also popular, especially in the Western states. With hundreds of products to choose from for exterior materials, almost any color or custom work can be done. While simple and green are the passions of today, there are still those that appreciate a lavish look with French Country or bold European.
Over the next 100 years we will see an amazing amount of new styles, technology, designs, and trends that will affect the world we live in. The past 100 years has given us much variety in design and style. We have the ability to create almost anything from looking at how our ancestors lived.