Granbury Subdivisions
Posted by Randall Luna on Sunday, September 4, 2016 at 8:10 PM
By Randall Luna / September 4, 2016
Comment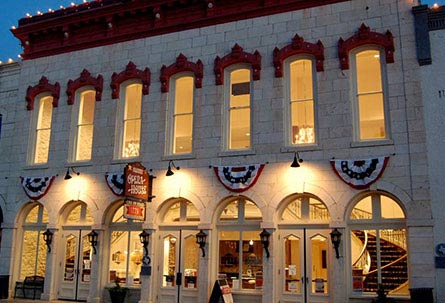 Granbury Subdivisions
Granbury Tx is full of incredible subdivisions that are in the center of one of the greatest real estate markets in the country. With many of the subdivsions within the city of Granbury haveing differnt amminities, we wanted to give a brief discription of many of the most popular neighborhoods in Granbury.
Abe's Landing
Abe's Landing started out as a privately owned ranch operation. The old Abe's Landing homestead house still remains in the subdivision! Story has it that Abe's Landing was the point at which people on each side of the river would meet and "Abe" would ferry them back and forth across the river. Today, Abe's landing is on the finest examples of a planned community in Granbury. Newer homes priced from the mid $200s are located inside the front gate and as you move back toward the waterfront, home prices increase into the $700s.
See All of the Homes for Sale in Abe's Landing.
Canyon Creek
The waterfront community of Canyon Creek is very unique and rustic! Most of the waterfront properties have deep water at their shores as this community sits right on the main river channel. Canyon Creek waterfront is truly unique in that the south bank shelters the lake from the wind, making this smooth waterfront the ideal place to wakeboard.
See all of the Homes for Sale in Canyon Creek
DeCordova Bend Estates
This private neighborhood of DeCordova Bend Estates is one of the original planned communities along the Brazos River and Lake Granbury. There is a wide mix of housing in DeCordova Country Club ranging from small weekenders, golf course properties, canal front properties, and main body waterfronts on the shores of Lake Granbury.
See all of the Homes for Sale in DeCordova Bend Estates
Harbor Lakes
These range from luxurious mansions and executive estates to mid-priced single family houses. Homesites have golf course, greenbelt or Lake Granbury waterfront lots. Just a short drive from the Harbor Lakes Golf Course and Club, home prices range from the mid $200Ks to over $1M.
See all of the Homes for Sale in Harbor Lakes
Mallard Pointe
The developer of this wonderful subdivision left as many of the native live oak and large cedar trees as possible to ensure a nature filled living experience for the residents. There are waterfront homes, golf course homes and everything in between to be discovered here! The community features a large park on the lake and a community marina for homeowners to be able to enjoy the lake even if they don't live on the waterfront.
See all of the Homes For Sale in Mallard Pointe
Pecan Plantation
As one of the most popular subdivsions in Granbury Pecan Plantation offers homes ranging from luxurious mansions and estates to sprawling ranches, attractive single-family houses and modern condos. Or if you're looking to build a new home, we have scenic building lots and large acreage tracts available.
See all of the Homes for Sale in Pecan Plantation
Bentwater on Lake Granbury
High on the shores of Lake Granbury sits the beautiful community of Bentwater. Getting its name from the bend in the Brazos River this community boasts stunning views of Lake Granbury! If Rolling Hills, Fishing Lakes, Oak Trees, and wide-open space are what you crave, be sure to take a look at Bentwater with home sites starting at 1 acre.
See all of the Homes For Sale in Bentwater on Lake Granbury
Catalina Bay & The Islands
Known for it's exclusivity and convenience to all things Granbury, Catalina Bay and The Island on Lake Granbury are home to a wide range of lakefront living. These main body and canal front properties feature some of the newest construction of waterfront homes in Granbury.
See all of the Homes For Sale in Catalina Bay and the Islands
DeCordova Ranch
DeCordova Ranch is located on the Fort Worth side of Granbury and very close to shopping and dining. The subdivision offers large lots with many of the native trees remaining! As soon as you enter the gated Granbury stone entry, you will see that this is no cookie cutter subdivision.
See all of the Homes For Sale in DeCordova Ranch
Grand Harbor
Grand Harbor is a luxury gated community on the Fort Worth side of Granbury. Large 1+ acre lots are the norm and most of the lots already been sold. Grand Harbor is truly a luxury destination as the waterfront homes offer massive sweeping views of Lake Granbury.
See all of the Homes for Sale in Grand Harbor
Indian Harbor
The Indian Harbor Community Center features a Pool, Tennis Courts, Playground and Teen Center. The Marina offers a Boat Ramp, Boat Slip Rentals and "Boomers" Lakeside Cafe. Enjoy a local, casual atmosphere offering a hearty breakfast, great burgers and daily lunch specials.
See all of the Homes for Sale in Indian Harbor
Meander Estates
Meander Estates is located on the Fort Worth side of Granbury, just off Highway 377 and Old Granbury Rd. Meander Estates is made up of 250 + lots containing homes and vacant lots for future home sites.
See all of the Homes for Sale in Meander Estates
Waters Edge
Waters Edge is a master planned community located in the heart of Granbury right on the banks of beautiful Lake Granbury. Waters Edge offers a small neighborhood feel while located within walking distance of shopping and dining.
See all of the Homes For Sale in Waters Edge
This list of subdivsions, by no means, makes up all of the available neighborhoods and properties for sale in Granbury. If you are interested in additional information on any subdivsion in Granbury, please fill out the form below and a REALTOR will get back with you shortly.