Exploring Granbury's Premier Golf Communities
Posted by Randall Luna on Sunday, September 24, 2023 at 10:07:48 PM
By Randall Luna / September 24, 2023
Comment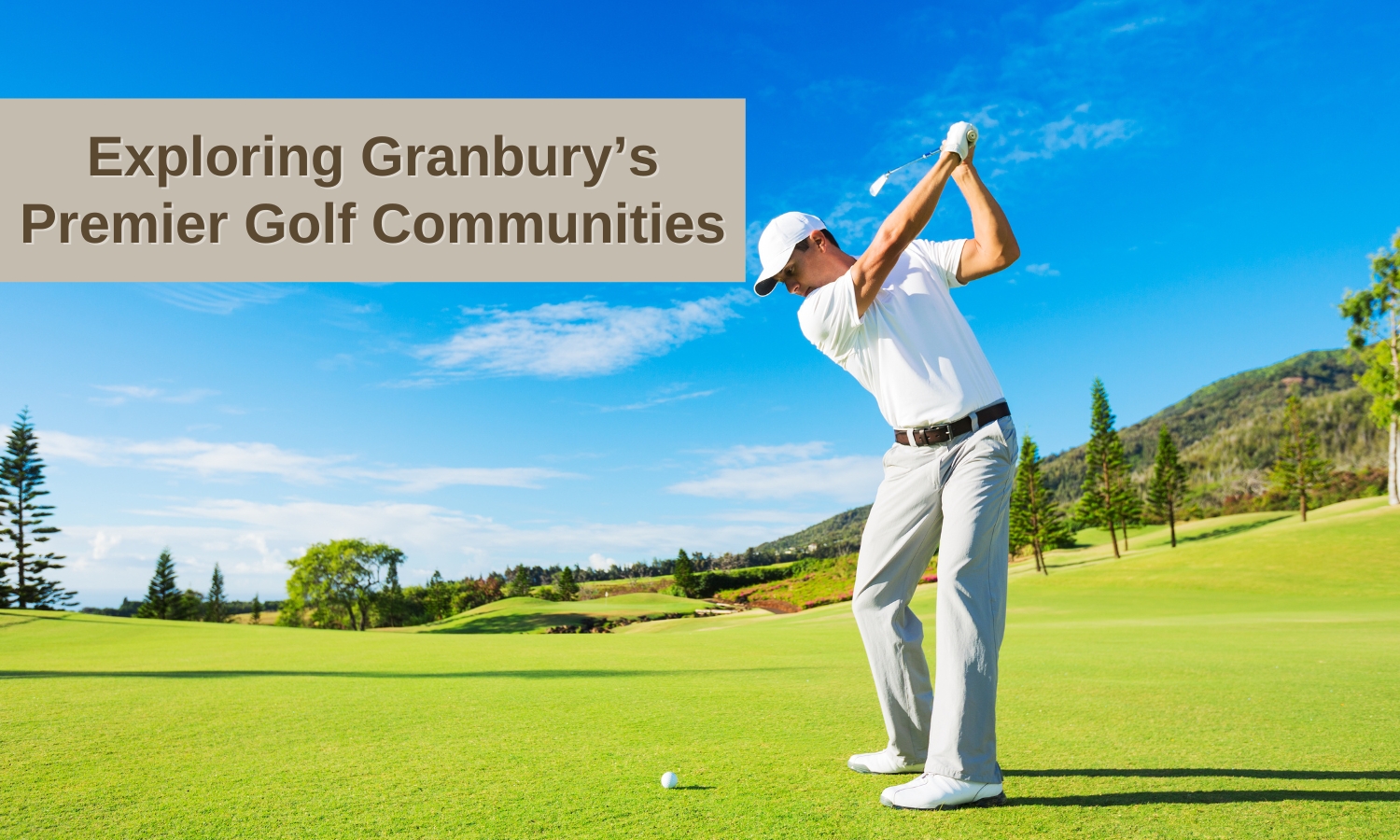 Amidst the picturesque landscapes of North Texas, Granbury has carved a niche for itself in the hearts of golf enthusiasts. This quaint town finds its true essence reflected in the lush greens of its premier golf communities. Meticulously designed, Granbury golf courses make the town a coveted destination for those seeking sport and serenity.
The gentle breeze, sunlight on the fairways, and birds chirping create a tranquil backdrop for golf lovers. Residents and visitors alike feel the unique blend of tranquility and thrill that only Granbury's golf communities can offer.
Granbury's charm doesn't end at the greens. Its golf communities are ensconced in serene neighborhoods, where the pace of life takes a gentle pause. Here, the love for golf is a shared sentiment, making every game a community affair.
Let's take a look at the golf communities of Granbury and discover the essence of greenside living.
DeCordova Bend Estates: A Golfer's Paradise
On the banks of beautiful Lake Granbury, DeCordova Bend Estates encapsulates the spirit of golf-centric community living.
The Golf Course
The crown jewel of DeCordova Bend Estates is its immaculate golf course. The course boasts a design that challenges golfers of all skill levels. The sweeping fairways, strategic bunkering, and pristine greens make each game a delightful exploration. As players navigate through the course, they're accompanied by a gentle breeze and panoramic vistas.
Living in DeCordova Bend Estates
DeCordova Bend Estates real estate ranges from cozy homes to sprawling estates, each offering tranquility coupled with modern amenities.
Residents revel in a lifestyle that blends leisure, community, and the joy of golfing. The Estates house a lively community of avid golfers. Besides golf, residents have access to a plethora of amenities including a clubhouse, tennis courts, and a fitness center. The social calendar here is bustling with events that foster a sense of community and everlasting friendships.
Pecan Plantation: Where Green Fairways Meet Cozy Homes
In the heart of Granbury lies Pecan Plantation. A haven where the love for golf melds seamlessly with a warm, inviting community.
The Golf Course
The allure of Pecan Plantation undeniably stems from its captivating golf course. With a fine balance of aesthetics and challenge, the design ensures a rewarding experience for both novices and seasoned golfers. Its well-manicured fairways are bordered by towering pecan trees.
Living in Pecan Plantation
Pecan Plantation real estate is varied, offering an array of homes that cater to diverse preferences. From quaint cottages to expansive homes, the residences here are designed to provide a cozy abode amid the lush green vistas.
Life in Pecan Plantation is about being part of a close-knit community that shares a love for the outdoors. Besides golf, the community is adorned with a host of amenities including a club house, tennis courts, and equestrian facilities.
Harbor Lakes: Luxurious Fairways Await
Harbor Lakes is a name synonymous with elegance and a sublime golfing experience in Granbury. The community, with its sprawling golf course, beckons to those who crave a blend of leisure and luxury. The breathtaking views from the fairways and the camaraderie among golf enthusiasts make Harbor Lakes an enchanting place to reside.
The Golf Course
At the heart of Harbor Lakes lies a golf course that is as visually stunning as it is challenging. The meticulously designed greens and fairways provide an invigorating challenge to golfers of all skill levels. Each hole presents a unique test, with water hazards and bunkers waiting to engage the players in a playful duel. The course's scenic backdrop of shimmering lakes and mature trees adds to the exquisite golfing experience.
Harbor Lakes Living
Harbor Lakes real estate exudes elegance, with homes that are architecturally pleasing and nestled in peaceful locales. The properties range from stylish single-family homes to luxurious estates, all providing a serene retreat with scenic views.
The lifestyle in Harbor Lakes is enriched by a community that values camaraderie and shared interests. Beyond golf, residents enjoy a spectrum of amenities including a clubhouse, swimming pools, and fitness centers.
Conclusion
Golf communities in Granbury aren't just about the sport. They're about embracing a lifestyle surrounded by scenic beauty and like-minded neighbors. The charm of Granbury's golf communities lies in their ability to offer a serene yet engaging lifestyle.
Whether it's DeCordova Bend Estates, Pecan Plantation, or Harbor Lakes, there's a blend of community, natural beauty, and splendid golfing. It's inviting for any golf enthusiast looking to settle somewhere that cherishes the sport as much as they do.
Elevate Realty Group is well-positioned to guide you through finding the perfect home in these idyllic golf communities.
How Elevate Realty Group Paves Your Way to Greenside Living
Finding the perfect home in Granbury's esteemed golf communities is a pursuit filled with excitement and promise. Elevate Realty Group is here to ensure this pursuit is as smooth and rewarding as possible. With a deep understanding of Granbury, our team is adept at matching your desires with the right community and home.
Our personalized approach ensures that we understand your preferences, lifestyle aspirations, and the golf community vibe that resonates with you. We treasure the opportunity to assist you in finding a home where the fairway becomes your backyard.
With Elevate Realty Group by your side, the dream of greenside living in Granbury is well within reach. Our expertise is your compass in navigating the inviting options Granbury's golf communities offer. We'll bring you a step closer to finding a place you'd be proud to call home.