The Best Subdivisions in Granbury, TX
Posted by Randall Luna on Tuesday, August 8, 2023 at 9:55:11 PM
By Randall Luna / August 8, 2023
Comment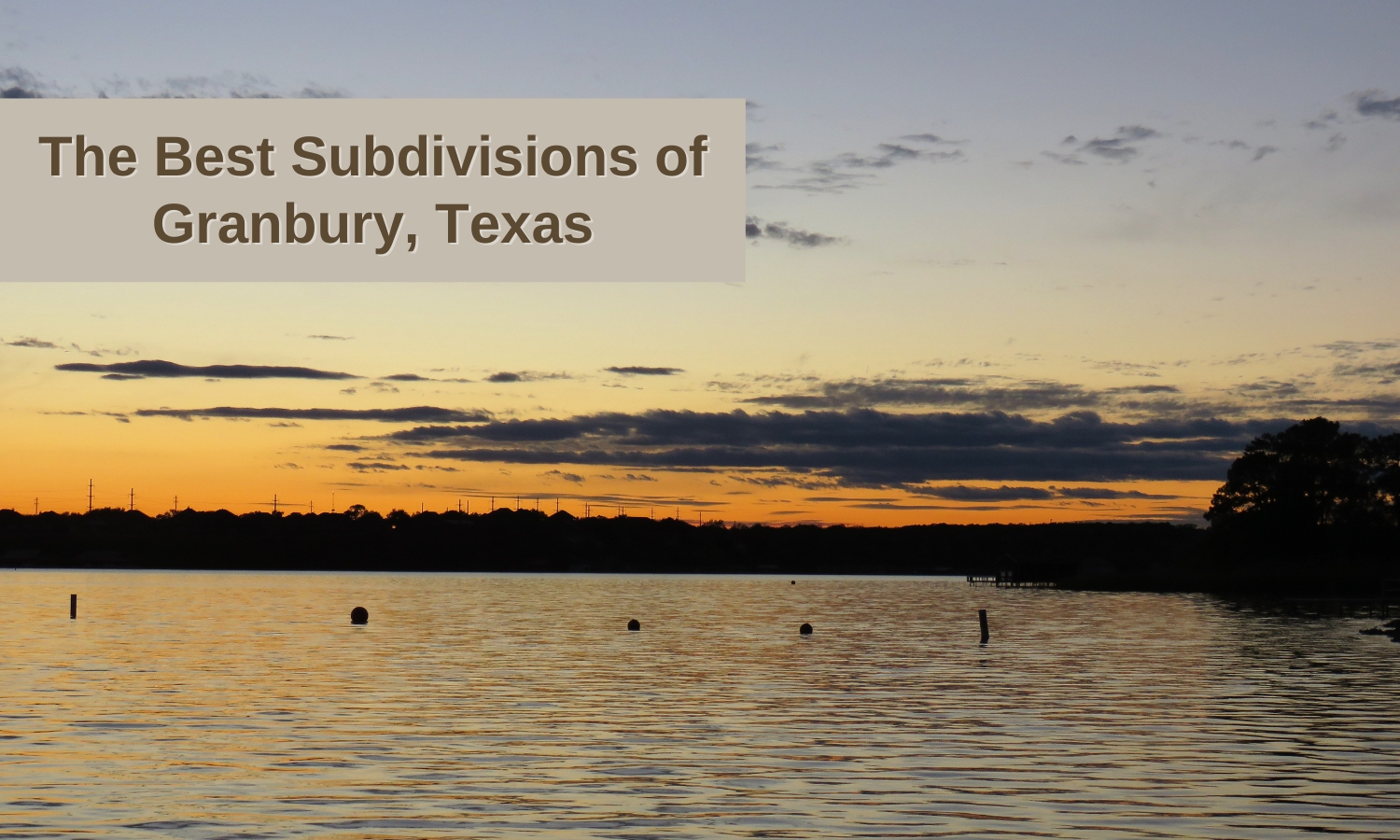 At Elevate Realty Group, we're more than just real estate agents. We're your neighbors, your friends, and your advocates in navigating the exciting world of real estate. Led by our owner and broker, Randall Luna, we're on a mission to transform your property dreams into reality. Let's get started, shall we?
Granbury, TX: A Real Estate Haven
Nestled in the heart of Texas, you'll find Granbury - a real gem. It's not just a town; it's a community rich with history, culture, and charm. But that's not all. Granbury is also a haven for real estate, offering unique opportunities for buyers and sellers alike.
The Charm of Granbury Subdivisions
Peek into Granbury and you'll quickly see its charm. Granbury's subdivisions are not just rows of houses; they're a collection of homes teeming with character. From cozy cottages to sprawling estates, there's a home for everyone.
Each neighborhood offers something unique, a testament to Granbury's rich tapestry of life. It's the kind of place where you'll instantly feel at home.
Abe's Landing: A Piece of History Reimagined
Granbury is rich with history, and Abe's Landing stands as a shining example. It's more than a subdivision; it's a tribute to the past, reimagined for today's living.
The Story of Abe's Landing
The story of Abe's Landing runs deep. With a nod to our city's roots, this subdivision embodies Granbury's charm, blended with modern amenities. Here, you'll find a unique balance of history and contemporary lifestyle, making it the perfect place to call home.
Housing Options in Abe's Landing
Homes in Abe's Landing offer a variety of options to fit your needs. Whether you're looking for a cozy starter home or a spacious family retreat, you'll find it here. The community's design has families in mind, offering space, comfort, and a sense of belonging. Home is waiting for you in Abe's Landing.
Canyon Creek: A Rustic Waterfront Community
Canyon Creek, with its rustic charm and waterfront views, holds a special place in Granbury's real estate scene. It's a community where life slows down, and nature's beauty takes center stage.
Unique Attributes of Canyon Creek
What sets Canyon Creek apart? It's all about location and lifestyle. Nestled by the lake, this community brings you closer to nature.
Plus, there's an undeniable sense of community here. Neighbors become friends, sharing in the laid-back, lakeside lifestyle that Canyon Creek offers.
Real Estate in Canyon Creek
When it comes to real estate in Canyon Creek, expect variety and value. From modest homes to spacious estates, there's something for everyone.
And the best part? Each property offers a taste of lakeside living that's hard to find elsewhere. Discover your dream home in Canyon Creek.
DeCordova Bend Estates: Where Diversity Meets Scenic Views
Welcome to DeCordova Bend Estates, a unique blend of scenic views and diverse housing options. It's a place where residents enjoy the best of Granbury living.
History of DeCordova Bend Estates
DeCordova Bend Estates has a rich history. It started as a dream – a vision of a community that balances natural beauty and modern convenience. Today, it's a reality and a beloved part of Granbury.
Housing Types in DeCordova Bend Estates
Homes in DeCordova Bend Estates offer a wide range of styles. Whether you're a first-time buyer or looking to upgrade, there's a home for you here. Enjoy everything from cozy cottages to lavish residences.
Amenities at DeCordova Bend Estates
Living in DeCordova Bend Estates means enjoying top-notch amenities. Picture this: golf courses, tennis courts, swimming pools, and a marina – all within your reach. It's not just a home, it's a lifestyle.
Harbor Lakes: A Blend of Luxury and Tranquility
Say hello to Harbor Lakes, where luxury meets tranquility. It's an exceptional community offering residents a life of comfort and peacefulness.
Variety of Homes in Harbor Lakes
Homes in Harbor Lakes are as diverse as they are beautiful. From elegant single-story homes to majestic multi-level houses, the variety is sure to appeal to everyone. It's a place where your dream home awaits.
Nearby Attractions in Harbor Lakes
What makes Harbor Lakes special isn't just the homes. It's also the nearby attractions. Think relaxing spas, fun-filled parks, exquisite restaurants, and more. Life at Harbor Lakes means always having something exciting to do.
Mallard Pointe: A Nature-Filled Living Experience
Welcome to Mallard Pointe, a haven that lets you fully embrace nature. Imagine the beauty of wildlife, and the serenity of trees right at your doorstep. It's not just living; it's an experience.
Embracing Nature in Mallard Pointe
In Mallard Pointe, it's all about being one with nature. The community is nestled amidst lush greenery, offering breathtaking views at every turn. It's a joy to wake up to the sound of chirping birds or to take a stroll under the trees.
Real Estate in Mallard Pointe
The homes in Mallard Pointe echo the beauty of nature. With spacious interiors, thoughtful architecture, and abundant natural light, each house is designed to blend seamlessly with the environment. It's the perfect place for those seeking a balance of comfort and nature.
Bentwater on Lake Granbury: Stunning Views and More
Bentwater on Lake Granbury. Just hearing its name stirs images of stunning landscapes. It's a real estate paradise with a lot more than just great views to offer.
Why Bentwater on Lake Granbury Stands Out
What sets Bentwater apart? It's a mix of tranquil beauty, warm community spirit, and high-quality homes. Plus, the breathtaking views of Lake Granbury. It's hard to find a blend like that anywhere else.
Property Types in Bentwater on Lake Granbury
Bentwater homes cater to a wide variety of preferences. From charming single-family homes to large luxurious estates, it offers an array of options. Whether you're a first-time home buyer or looking for a peaceful retirement spot, Bentwater has something just for you.
Let Elevate Realty Group Help Find Your Granbury Dream Home
We've taken a journey through Granbury's fantastic subdivisions, each with its unique charm.
What's not to love? It's a perfect blend of history, community, and natural beauty.
Each subdivision offers its unique experience and charm. No matter your lifestyle or your home preferences, Granbury, TX, has a place that's just right for you. Finding the perfect home isn't just about the house. It's about the community, the landscape, the lifestyle.
At Elevate Realty Group, we understand that. We're here to guide you through the journey, helping you explore the options and find the home that fits your dreams. Ready to start the adventure? Let's talk today!